So, you have been thinking of taking up kitesurfing; you have probably watched a few how-to videos on YouTube or asked a friend to teach you.
If you are a thrill-seeker like us, you are about to embark on a lifetime journey of intense fun and being impatient for the next time to be on the water. Your reason for being interested notwithstanding, you want to be on the water as soon as you can. Read on to find a few tips on how to get started with kitesurfing.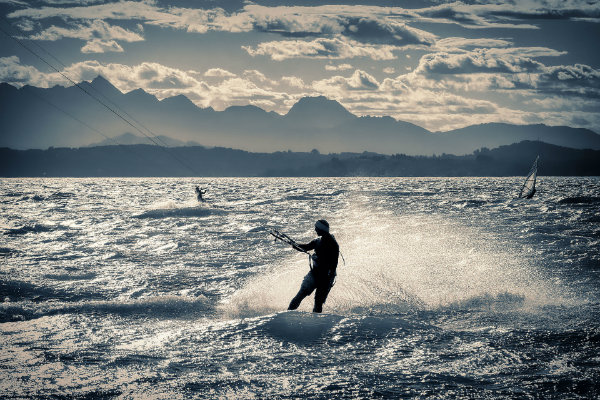 Find Out More
Before setting out to be a kitesurfer, it is worthwhile to find out as much information about the sport. This could be about local regulations of the sport, like any certification requirements or schools where you can learn it. Since kitesurfing is a recently growing sport, this information is critical to getting you started in the right way. To find out more, refer to local and international kitesurf providers, schools, social media, websites or enquire through relevant government channels. This is better than making guesses or appropriating information and getting frustrated in the end.
Buy or Renting the Right Equipment
In kitesurfing, there is a convention that the "difference between experience and novice may be as little as a week". This means that your equipment needs may change just as fast. For this reason, most people opt to rent equipment while in the learning phase and buy only when they have nailed down their skills.
Another common route is to buy secondhand equipment to learn before committing to buy a new kit. While this could work for kitesurfing, you may miss out on new technology if you choose to go for older equipment. Therefore, your choice to buy or rent equipment depends on your skill level, size, age, surf site location, etc. For example, your weight will determine the size of a kite and the skill level will determine whether you need features like a seat harness or a larger board. If you are looking for good equipment in kitesurfing, let's visit Flymaax website.
Start By Taking Classes
Kitesurfing is as frustrating as a DIY project, especially in the learning phase. As an extreme sport, the danger is potent, which means you require high-level skill to master. Therefore, to get a good foundation and to become a great kitesurfer, kitesurf lessons from a trained professional are a must.
Beyond teaching you how to operate a kite, standing up in the water and assessing the weather, classes teach the sports etiquette and safety techniques. For example, in your classes you will learn with a trainer kite which an instructor will co-pilot with you and gradually get to advanced equipment. This progression will not only boost your confidence but also ensure you are safe at all times. Without going to classes, you may endanger yourself and everyone else who will be in your vicinity.
Staying in Good Shape
You have probably wondered what physical demands kitesurfing has on the body. Your worries are justified since kitesurfing used to be a physically demanding sport because most of the control was down to the body. However, as the sport continues to develop in popularity and with better equipment being developed, the physical demands are reducing. You don't need to be the most athletic person as long as you can control a kite on your body. Upper body strength will help you move your equipment around easily and steer comfortably while your core strength will increase your endurance for long sessions and also reduce the risk of injuries.
Since the physical demands are not intense, maintaining the body in good shape will help you learn quickly and with ease. Unless you are doing it on a professional level where tricks and perfect execution of manoeuvres is needed, a moderate physique is enough for people of all ages to enjoy kitesurfing.
Kitesurfing is challenging but incredibly satisfying. It borrows skills from the best water sports like surfing, swimming, wake boarding and flying kites. While this may look like a lot to take in from the start, mastering opens up alternative possibilities for you in the ocean. For example, you can enjoy the water whether the sea is calm or rough. Likewise, if you can easily pack up your equipment, you will have fun anywhere in the world.